Wasp Barcode Technologies: The Barcode Solution People
Small Business Saturday

November 24, 2012 marks the third annual day for small businesses to promote their goods and service to the community.
Small Business Saturday
, perfectly sandwiched between Black Friday and Cyber Monday is a day dedicated to small business shopping. Think of it as supporting the business owners in your community who provide jobs as well as the customers who love to buy locally. Keep your community's economy thriving by participating in this valuable holiday. Founded in 2012 by American Express, Small Business Saturday was created to help small businesses gain customers during a widely known holiday and one of the biggest shopping weekends of the year. This year American Express has gone one step further to help small businesses get the word out by adding free and easy-to-use online tools. Consumer's can also show their community-support through American Express's online tools and their own social media efforts. If you're a consumer and interested in participating in Small Business Saturday, consider dining out at a locally owned restaurant, or shop at a local small business. You can, of course, spread the word through social media platforms. Visit
Rally My Community
for more tools and ideas on how you can get involved.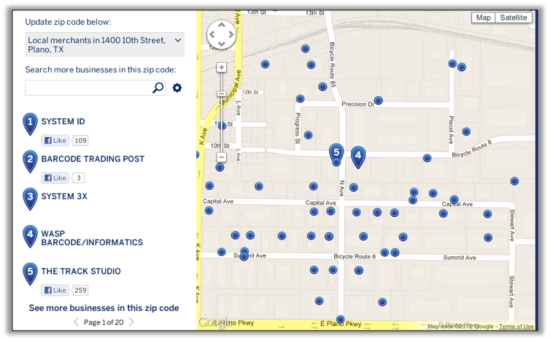 Above is a feature provided by American Express to find local shops participating in Small Business Saturday. To find out who's participating in your community type in your zip code. The map will populate locations, stores and names of businesses. If you're a small business owner no sign-up is required to be apart of this "holiday." Just because you're a small business owner, whether you're an online store, brick-and-mortar retail store or restaurant, by being open on Saturday you are automatically apart of the day. In order to make the most out of the event, American Express has offered tools, like the one above, catered to business owners. Visit
Promote My Business
to find out more details and resources. If you're interested in supporting or promoting the small businesses in your community, go out on Saturday, bring the family, open up the shop, do whatever you must to spread the world and support your local economy. For success stories
click here
.
Are you going to participate in Small Business Saturday?