Wasp Barcode Technologies: The Barcode Solution People
The Keys to Effective Tool Crib Management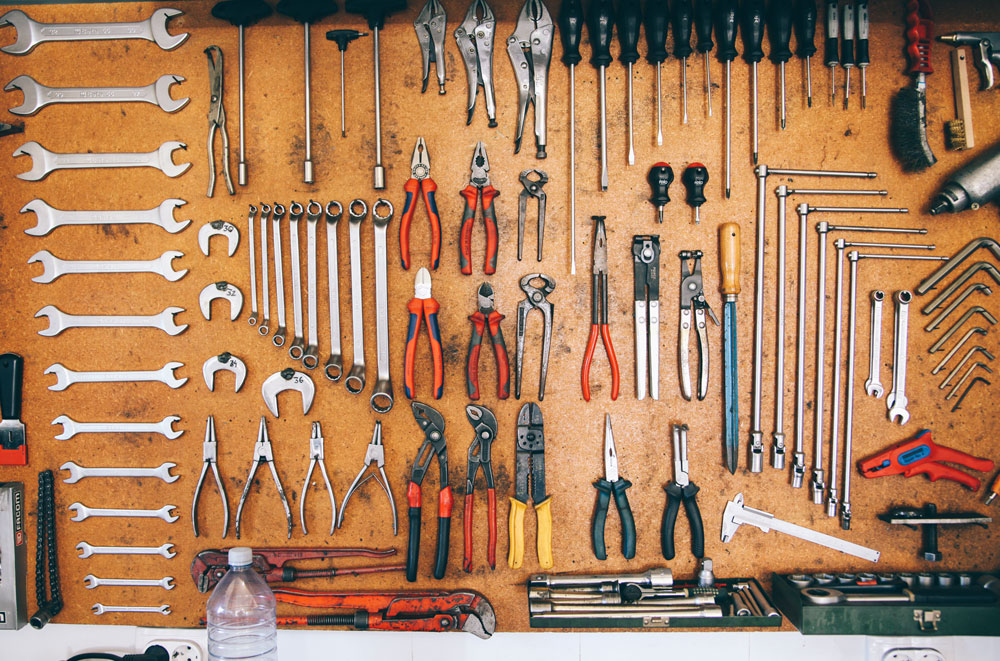 Tool Crib Organization Tactics To Help Your Business Succeed
Being able to find your tools efficiently is crucial for your business to thrive.
Using the right tool for the job is a wise adage. If you want to use the tool you have to be able to find it efficiently. When it comes to a tool belt or tool box this isn't hard. For companies and manufacturers that need enough tools to fill a room or more, keeping track of tools and being able to access them efficiently can become critical to your bottom line and your organization's overall success. Tool crib management is the science and art of organizing your tools. Some large organizations have dedicated tool crib managers. In many small or midsize businesses the owner or
inventory manager
will have to fill this role. Even for the most organized individual, it can be a challenge to keep a tool crib operating at top efficiency.
The Importance of Tool Crib Management
Not all tool cribs are created equal. From a firehouse to a manufacturer to a mom and pop repair shop, tool cribs are as varied as the industries that need them. "I've seen countless cribs over the past 35 years and I still see different arrangements all the time," Roy Taylor, a district sales manager for a
storage equipment manufacturer
, told MRO Today. "It's amazing how diverse they can be." [Tweet "Bottom line, you have to know what you have, where it's going and where it's been."] Despite the diversity, all tool cribs still fulfill the same basic function. "Bottom line, you have to know what you have, where it's going and where it's been,"
explained Jim Wilson to MRO Today
. Wilson is a parts and equipment manager who runs a 44,000 square foot facility for Team Green, an auto racing outfit that's claimed Indianapolis 500 and Indy circuit points titles over the past four years. He understands the importance of tool crib management for his winning team.
Having What You Need When You Need It
The most important thing your tool crib does is make sure you have your tools when you need them. The importance of this can't be underestimated.
For fire fighters having the right equipment can be a matter of public safety and saving lives. Jamie Pugh, liaison officer for
Lipscomb Fire & Rescue
, told Wasp Barcode, "Since we're 100% volunteer, it is important for us to be efficient. And for safety purposes, it's vital our equipment tracking be very accurate. If our tracking isn't accurate, we aren't able to provide the public safety services we are committed to provide."
Preventing Accidental Loss and Theft
Tool cribs are also critical to preventing accidental losses and intentional thefts. When you have expensive tools spread around your company the opportunity for theft will increase and the likelihood of someone just leaving an item out is much higher. As Paladin Private Security began to grow it also saw a rise in minor theft of assets, as well as, inadvertent losses. Losses included several laptops, valued at over $2,000 each, a Taser weapon, and fuel cards used for filling patrol cars with gas. The lack of a reliable tracking system resulted in countless hours of investigative expense to resolve each of these issues. "Once we knew an asset was missing, we spent even more time trying to figure out who had it last," Matt Carroll,
a vice president and co-founder for Paladin
, explained to Wasp Barcode. "We wasted hours literally chasing our tails looking for missing items. In today's environment, we could hardly afford to lose high-dollar items such as laptops anymore."

Principles of Good Tool Crib Management
Each company will approach the physical organization of its tool crib differently based on what they need and what they have. There are common principles for "good" tool crib management that apply to all.
Asset Management Software
Dedicated Tool Crib Manager
You need to have to have an individual or small team that is in charge of managing your tool crib. It doesn't have to be their only job, though for many organizations it should be.
Effective Organization System
Alphabetical, numerical, function, color, size, etc. it doesn't matter what it is, if you want an organized tool crib you need a system.
Find something that works for your company
, if the same tools are used for the same jobs it might make sense to organize them by job. With a large variety of items, an alphabetical system can often work well. Whatever it is, find a system, implement it, and stick to it.
Regularly Update Your Tool Crib Database
It may seem natural to keep your asset information in a basic Excel spreadsheet or even worse a pen and paper system, but if you do you are asking for trouble. Barcode labels make it easy to
automatically log information
with a scan and eliminate the potential for human data entry error.
Check-in and Check-out Policy
Any tool crib needs a check in and check out policy so they can account for where tools are and who used them last. Using a simple paper check out sheet may seem appealing but it won't work for long and is easy to cheat. Electronic systems are usually the best. Barcodes can make
check in and check out a breeze
.
Secure Location
Tool cribs need to keep your tools safe. No one likes to think about their employees stealing from them, but it happens. One of the
leading contributors to fraud
and theft is opportunity - in this case access to the tools. Keep your tools organized in a secure location that is only accessible to the tool crib managers and select management. This way you reduce the risk of theft by employees or outsiders.
4 Quick Tips for Effective Tool Crib Management
Keep your tool crib protected and locked - this shouldn't be an area open to all, having a dedicated person will help reduce theft and misplaced items.
Use visual communication tools, like barcode based inventory or asset tracking systems, to organize and easily track of tools.
Always update your database - every day, every hour, every time an item is checked out or in - you should always be updating your database with the latest information.
Regularly conduct inventory - this doesn't need to be every day (though that isn't a bad idea) but make sure you have a regular schedule for inventorying your tool crib. The occasional random inventory is also a good idea.
Know your trade, know your tools, and know where your tools are. That's good business advice and good business practice.