Wasp Barcode Technologies: The Barcode Solution People
Key Responsibilities of an Inventory Manager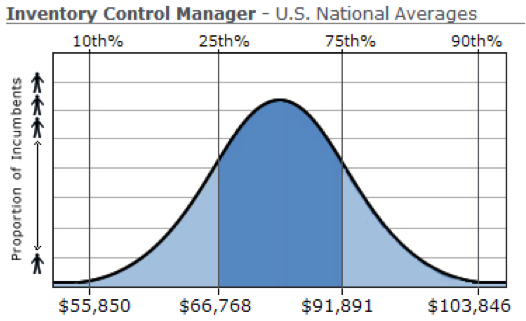 Efficient inventory management is crucial to the success of a business, and as such it's incredibly important to hire a cap able inventory manager. Salary.com lists the
median expected salary for an inventory manager
in the United States at $78,760; this isn't surprising considering these individuals are responsible for guaranteeing your organization stays in control of its inventory needs.
Inventory Manager Job Details
Inventory managers have a number of responsibilities – many of which require daily monitoring and evaluation. As detailed in the following job description, the obligations of an inventory manager range from specific inventory duties to more managerial tasks. An
inventory manager
is in charge of inventory in a warehouse or similar facility.  Inventory managers lead a team of inventory or warehouse workers to receive and record new stock as it comes in and move stock onto trucks or shelves as needed. In addition, inventory managers are responsible for interviewing and hiring employees, creating schedules, monitoring stock levels at the warehouse and knowing when to replenish stock. Inventory managers are focused on time, making sure every item of  stock gets to its destination on time and that there are no shortages on shelves.
4 Key Responsibilities of Inventory Managers
Below, we describe four primary responsibilities of inventory managers and explain what each requires.
1.
Evaluate Suppliers
Inventory managers have the important responsibility of finding a supplier who will provide your company with the goods needed to operate and be profitable. Part of that role means maintaining a good working relationship with suppliers by communicating and dealing with concerns or problems, such as a delay in an order being processed. In addition, an inventory manager needs to be aware of other available suppliers in the area who may be willing to provide your business with materials at a better cost.
2.
Prepare Documentation
Inventory managers are responsible for managing inventory documentation. They must accurately record the quality, quantity, type, style, and any other characteristics of the inventory so your company has a clear understanding of what is and isn't available. These documents also help your company
avoid shrinkage due to loss or theft
because the inventory manager always has a running tally. The documentation prepared by the inventory manager can also be valuable information for marketing purposes and when determining strategies to effectively move inventory.
3. Purchase New Inventory
Some organizations may have a separate purchasing department that negotiates and signs contracts with suppliers. However, in smaller companies, that responsibility may fall to the inventory manager in addition to his or her role in managing the ongoing relationship with suppliers. The inventory manager must have a constant knowledge of what inventory is left and what is running low. In the event inventory is low, he or she must mange ordering more from the appropriate supplier and negotiate pricing and a timeline for delivery.  Additionally, a good inventory manager will know when he or she has
too much inventory
and will know the correct steps for addressing that particular issue.
4. Track Inventory
This is an obvious responsibility, but it's an important one to acknowledge considering how integral knowledge of your inventory flow impacts all three of the duties mentioned above. Overall, the inventory manager is responsible for ensuring your organization has the right amount of stock to meet customer needs and also to avoid overstocking items; which ties up cash and creates storage issues. An
inventory management solution
will make an inventory manager's life much easier. Inventory management software is an automated approach that provides the ability to accurately and quickly track inventory.
Already an Inventory Manager?
Perhaps you are an inventory manager and actively performing the responsibilities mentioned above. Within any profession, there is always room for continued education to improve your skill set and increase your knowledgebase. Here are a few available resources to help you become a better inventory manager.
As you've likely surmised, an effective inventory manager is essential in making your business a success. Luckily, an inventory management solution from
Wasp Barcode
can alleviate many of the stresses associated with this position by making inventory easy to manage, track, and report. Interested in learning more about how an inventory management system could help your business? View
inventory software and systems
by Wasp Barcode.