Wasp Barcode Technologies: The Barcode Solution People
March 2013 SMB News Recap
5 Start Up Naming Rules from SXSW
Entrepreneur
According to the overall feeling at SXSW, we are in the age of the start up. Along with the age of the start up, we are in the age of the unfortunate company name. A recent presentation by Gary Backaus, chief creative officer, and Justin Dobbs, associate creative director at Archer>Malmo, overviews 5 rules for naming a start up.  Backaus and Dobbs share tips such as "you're not naming your company, you're naming your brand" and, "if it ain't broke, don't fix it." The presentation helps us remember the basics and  think outside of the box.
Bakery Owner Talks About Coping with Health Insurance Changes
The New York Times
The Affordable Care Act  requires businesses with 50 or more full time employees to offer health insurance or pay a penalty. Many small businesses must decide to risk the penalty, offer health insurance or outsource work to reduce the employee head count and become exempt from the law. Of course, because neither the minimum level of coverage nor the costs to the insurance options have been finalized, there is still a lot of uncertainty.
5 Tax Season Tips for Small Business Owners
The Washington Post
Small business owners must ensure they have correctly itemized deductions, properly filed returns, and prepared for potential audits. But there are ways to reduce tension during this stressful season. Here are a few tips to eliminate errors and kick stress to the curb.
3 Apps for Scheduling Social Media Posts
Intuit
Many small businesses haven't adopted social media as part of their marketing strategy. And those who have are still struggling to strike an interactive-engagement and posting-updates balance. Intuit has shared 3 scheduling apps for social media in order to help take some of the burden off small businesses. The apps include, Hootsuite – a dashboard that can post updates to all major social media networks along with FourSquare and WordPress. SocialOomph – let's you schedule tweets, track keywords and reuse text from old tweets. The last app is LaterBro – apparently the simplest scheduler for Twitter and Facebook, is free. You just need to log in, create a post and schedule the date you want the post to go out.
So You Liked Big Booty Freaks on Facebook. Now What?
The Buzz
In the wake of New Jersey City's Assemblyman Charles Mainor's questionable Facebook associations, many people were forced to take a look at their own personable actions on social media. This isn't the first time a social media account executive has accidentally posted personal opinion's to their company's social media site, which is why Wasp shares some PR strategies for small businesses to help them brave the storm and come out on the other side still standing.
Pics we love:
We're on a boat!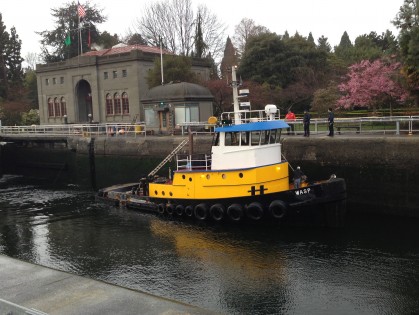 During a recent training in Seattle, Washington, Wasp trainer Melissa Vest spotted our namesake on a law enforcement sea vessel.