Wasp Barcode Technologies: The Barcode Solution People
The Small Business Secret of not Being Ignored – Part 2 (Copyblogger)
| | |
| --- | --- |
| Sean Jackson Copyblogger | In the first part of the series I discussed several components that I believe make up a successful website. If you recall, those components were content, back-linking, aesthetics, search engine optimization and a company blog. In this post I want to explain how someone could go about implementing quality content into their company's website. In next post I will explain how to incorporate SEO as this element goes hand-in-hand with quality content. So, read on to find out how SMBs can, and should, incorporate content. |
Below are three tips to keep in mind when composing content for your website:
➢
Write for the user, not for the Google and Bing bots.
Google and Bing bots are known as spiders that crawl the web indexing pages in order to return material during search queries. While the bots are indexing content, the algorithms (you may have heard of Penguin and Panda) allow the bots to measure certain variables. Some variables include measuring if the page is supplying users with answers and needed information, how fast does the page loads, what is the bounce rate, etc. Ultimately, however, the search engines want to supply results that help the user; so, while Google and Bing will continue to update algorithms that penalize and test websites, they're only doing so because they want the results to benefit searchers. Though it may seem important to write for the bots because they choose what content to supply to the user, in reality the content should be catered to the user, because the bots will recognize the content was helpful.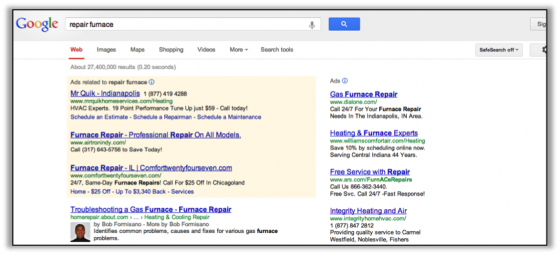 Google has designed their search engine in such a way that companies who've purchased ads will be displayed before the search results. These ads will also be populated on the right side of the SERP (Search Engine Results Page). The above web shot shows 3 ads before the first result, and several ads on the side. This results page has provided "Troubleshooting a Gas Furnace – Furnace Repair" because of the phrase I put onto the search bar. Google's bots provide the page to me because the searched term was in the title of the page, the meta description (description of what the page is about) and on the page itself. ➢
Quality content will grab a user's attention and keep them from "bouncing" off your website.
Bouncing is when a user lands on a page and realizes the information on the page is not what they were looking for; they in turn, quickly leave from the site to find better results. One way to prevent a high bounce rate is to make sure that page has quality content that answers the users questions, or provides them with information that matches their search query. For example, if a user types in furnace repair and an HVAC website pops up as a result they will most likely click on it. However, if they want to read about how they can trouble shoot their furnace, replace a filter or learn other DIY tricks before calling a provider, they may be dismayed to only find a telephone number and list of costs for each service. The user will then bounce quickly from that page, and look for another website that will provide them an answer.

This HVAC company, who will remain unnamed, doesn't supply the user with troubleshooting options. It only provides links for user to click and discover how much each service will cost. While it may provide users with a quick answer for who to call, it doesn't help them in any other way. ➢
Decide who you are trying to reach.
Is your target audience someone who is very familiar with the product they are searching for, knows what they want, and just wants someone to supply it to them, like a marketing director of a company who wants to add to their campaign? Or is your user someone who needs answers but doesn't know where to turn, like an entrepreneur or SMB owner who wants to learn more about features for ad campaigns? If you know who you are talking to, you can cater your content to each audience. Let's run with the ad campaign example: If your business provides PPC services to both enterprise companies who know they want to add a PPC ad campaign to their marketing strategy, and SMBs or entrepreneurs who want information about PPC for their ad campaign, you will want to create several landing pages (I will explain more about this in my post about aesthetics), which employ keywords (I will explain how to do this in my SEO post). Each landing page will use different terminology and have different content. On the enterprise targeted landing page you may want to incorporate industry jargon, making your company look like experts who know what they're talking about – it increases loyalty and makes the user feel more comfortable. On the landing page for entrepreneurs and SMB owners, you would most likely want to avoid jargon, as many individuals aren't specialists and would be confused by industry terms.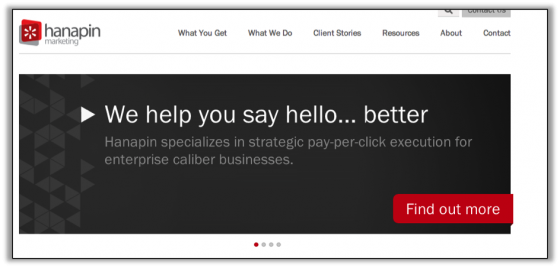 Hanapin Marketing is a PPC (pay-per-click) management company. They've chosen to use industry terms to appeal to their audience. By doing so, Hanapin appears authoritative. This page screams, "We know what we're doing here, trust us!" which is comforting to some users. This type of approach will work on users who knows what they want, and understand industry related jargon. SiteWit, a company that also sells their PPC management services, chose to explain what PPC is, why users should consider adding it to their marketing strategy, and how SiteWit can help them do it. This approach tends to work on people who are unsure of what they're looking for and need more information before they make a purchasing decision.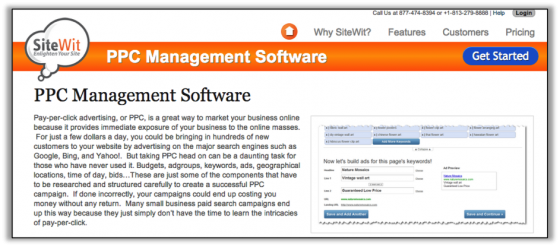 If there is one key take away, just remember to write for the user. Knowing your audience will increase ROI, but writing to a human, and not the "spiders" will ensure that your website will be taken seriously. The ultimate goal is to create a website that supplies answers that benefits users. My next post will discuss SEO tactics to implement within your website. I hope to share tips and tools to use to help optimize a site. So stay tuned for post three about Search Engine Optimization! If you have questions about the above post, please leave them in the comment section and I'll do my best to answer them. What content strategies do you employ on your SMB website?
Sean Jackson on Google+