Wasp Barcode Technologies: The Barcode Solution People
Asset Management called upon to Serve and Protect The City of Dallas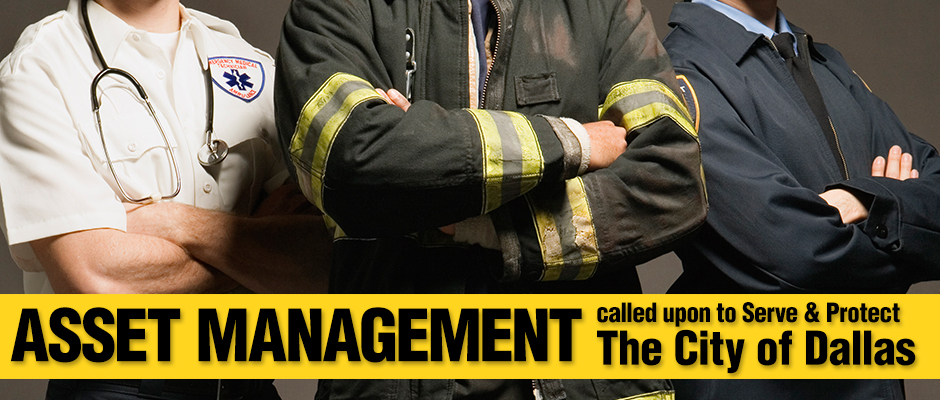 Towns, cities, counties and states across the country need to keep track of a lot equipment. From big ticket items like fire trucks and police vehicles to smaller assets like mobile computers and tablets, every municipality needs to know the whereabouts and condition of thousands of pieces of equipment need to protect its citizens. Keeping track of it all isn't easy. In 2014, in Hidalgo County, TX an audit of the Sheriff's Office found that 1,884 of 5,431 
assets were missing
, including 24 weapons and 25 vehicles that were unaccounted for. An auditor in Palo Alto recently
found major issues
with the city's asset management. In March, the police department in Flint, MI acknowledged that 22 firearms found missing from the department was the result of
poor record keeping
. However, not every city receives failing marks for asset management. For example, the City of Dallas' Department of Intergovernmental Services has been recognized for its adoption of
asset management best practices
to keep track of the $15 million in assets it monitors for the city's Office of Emergency Management and police, fire, IT and water departments. But this wasn't always the case. Before they started using
asset tracking software
and implementing asset management best practices the Department had a decentralized, manual system that was time consuming and prone to error.
Common Asset Tracking Mistakes
Despite the importance of effective asset tracking, especially when it comes to
audit
preparation and tracking grant-funded assets, many organizations fail to implement
asset tracking best practices
, including an automated asset tracking system. In fact, many government departments, municipalities, schools, and small to mid-size businesses face similar issues when it comes to asset tracking, especially if they are trying to use a manual system.
1.  Manual data entry
- Many organizations start off with a paper-based or excel-based system for tracking assets. These both involve manual data entry which is time-consuming and prone to error.
2.  Decentralized and static
- When you have different people in different departments or units each keeping track of their own assets in their own way it is going to be hard to sync up records and you will never have real-time knowledge of where an asset is.
3.  Lack of accountability
- Excel and paper based systems can't identify users and it can be hard to know who entered what or when they did. This makes it harder to track errors and assets.
4.  Too much responsibility on one person
- When only one person is responsible for tracking assets and keeping records it increases the risk of fraud. It also makes it difficult to transfer asset management to new employees if the current one leaves.
The City of Dallas' asset tracking system needed an upgrade
Before adopting an automated mobile asset tracking system, Dallas' Department of Intergovernmental Services used a decentralized approach to tracking assets. Each unit receiving equipment was responsible for
maintaining asset records
, maintenance records, and tracking which employees had checked items in and out. However, when it was time to do grant-required inventory checks, the manual process was not working. "Every two years, each unit was required to inventory all their
grant-funded items
and send them to us so we could compile asset reports. We found that we were spending more time trying to fill in the gaps to make sure all equipment had been inventoried than actually analyzing the reports," said Dina Colarossi, Fund Analyst for Dallas' Department of Intergovernmental Services. This only got worse during yearly audits. Each unit had to compile reports as quickly as possible but, due to the inefficient system, the process could take over two weeks.
Keys to Effective Asset Management
1. Centralized, real-time asset tracking
- Having a centralized asset database that is updated in real-time and accessible to multiple users allows people from different departments to track all their assets together and to always know exactly where an asset is. It reduces the potential for fraud and it makes the system easy to transition to new employees.
2. Automated data entry
- Using a barcode scanner and barcode system for automatic data entry eliminates the potential for human error and drastically reduces the amount of time it takes to enter asset tracking data.
3. Customizable record keeping and reporting
- Having a system that meets your organizations needs and the kind of reporting it needs is crucial. One of the main reasons to use an asset tracking system is to be able to quickly conduct an audit or create a report of an asset's status.
4. Scalable System
- You want to grow and you want your asset management system to grow with you. An effective asset management system is one that can incorporate new departments and assets and grow as your needs do.
How Dallas Implemented Effective Asset Management
Asset Management Software - City of Dallas
As Colarossi realized she needed a change, she started
looking for an automated asset management system
. The Department of Intergovernmental Services ultimately selected and deployed professional software, as well as barcode label printers and mobile computers to scan assets. Every grant-funded asset, from handheld radios to armored vehicles and mobile command centers, was given a barcode. The Department of Intergovernmental Services has been using Wasp
MobileAsset
for a little under three years.
---
"Since deploying Wasp's solution, there has been a huge change in the way we track our assets," stated Colarossi.
---
Colarossi and her team have found the greatest benefit of an asset management system to be the ease of creating reports, especially when faced with an audit. The department has experienced an extreme time savings in man hours. "Before MobileAsset, producing a complete asset report for an audit would have taken two weeks, now it takes between one or two days. Since we are also able to attach documents to the items in Wasp, we now have any records the auditors might ask for at our fingertips." "Manually tracking assets was an inefficient system that affected the entire way we managed grants," said Colarossi. "Now, our assets are centralized and everyone is connected. Our whole process has transformed, and works smoothly." The department's assets are now accounted for and can be found at a moment's notice when they are needed.  This leaves The City of Dallas with the tools they need to serve the community and the citizens that rely on them. How would having an asset management system in place make Grant reporting an easier process for your company?  How would it help in the future when applying for new Grants?