Wasp Barcode Technologies: The Barcode Solution People
Changing Your Inventory Management Habits
Why it's never too late to make the switch to an inventory management system
Your company's inventory is ultimately what keeps your business alive. Without products being bought and sold, you wouldn't make any money.  While this might sound like an elementary statement, the mishandling of said inventory could mean the downfall of your business.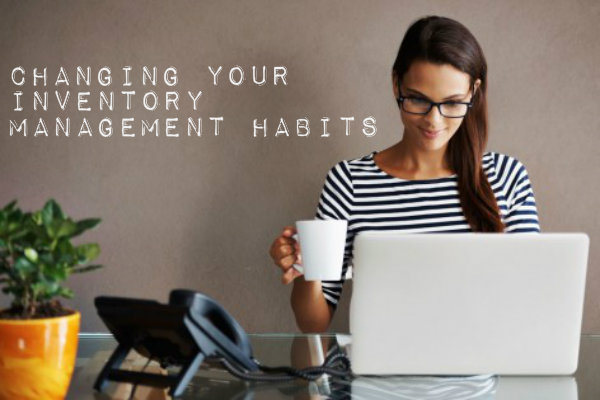 You might be thinking "my company has managed inventory the same way for years, and it works just fine." Does it really though? Excel spreadsheets and pen-and-paper are manual processes that open up your business to a lot of human error. For example, even the best typist will make a mistake every 300 keystrokes. Most mistake won't be caught.  Those administrative errors, such as errors in receiving processes or accounting errors, account for 15.3% of 
inventory loss
. Multiply that over thousands of products that pass in and out of your warehouse and over time, these small mistakes could mount up into an inventory disaster.
So it's no surprise that lack of inventory management is one of the
primary reasons businesses fail
, according to the 2015
Small Business Report
.
Investopedia
defines inventory management as
the overseeing and controlling of the ordering, storage and use of components that a company will use in the production of the items it will sell as well as the overseeing and controlling of quantities of finished products for sale.
Efficient and effective inventory management starts once you adopt a barcode inventory management system that can automate your functionality and decrease your margin of error. Whether you've been in business five years or 50 years, it's never too late to improve your business by switching to an inventory management system. Here's why:
Your employees will buy into it.
Even if your company has done things the same way for decades, you'll experience an expedited return on investment (ROI) due to high employee buy-in. Set-up time is relatively fast, and there will be little to no interruption in your company's daily operations because an
on-site trainer
will ensure that:
A training program is tailored to your business.
New users are easily and quickly trained.
Inventory best practices are taught from the get-go.
Products will be labeled during the training process.
Customers will be happy
As a business, your number one priority is to maintain a loyal customer base. When inventory mistakes become the norm, customers can too easily find another company that will offer better, faster service in one simple online search. It's up to you take necessary steps towards better inventory control, like Process Control Outlet (PCO), a company that has supplied products to the electronics and process control fields for the past 13 years. PCO was
dealing with increasingly frustrated customers
due to its inability to provide timely information about product availability. Robert Gonzales, assistant director of marketing and communications for PCO, said employees were wasting a lot of time physically searching through its warehouse to find items when orders were placed. "We could not give our customers the immediate response they deserve," he added. In an effort to keep clients happy, they decided it was time to utilize a barcode inventory management system.  They wanted a solution that would be easy to learn and use.  From the time the system was launched, workers were quickly trained. Now a PCO sales representative can instantly determine whether the items are in stock, right from their desks. Since the implementation, PCO never runs out of needed inventory, improving customer satisfaction.
See how inventory control software can help your small business
Your business will grow
Inventory control not only allows you to get a better handle on your products right now, it can promote expansion into the future. Take
Peterson Tractor Company
, which has been in operation since 1936. They saw opportunity in a growing customer need for consignment parts and knew it could be a competitive advantage for the company. To do this, they knew they'd need to get a better handle on inventory because it was going to serve twice as many customers as originally thought. Peterson implemented a
barcode inventory management system
to track more than one thousand line items, with more than eight thousand total consignment items, across 15 sites. "Now we have a way to 
effectively track off-site inventory
, which allows us to provide this unique consignment service to our customers," Bruno Muzzi, product support and services representative, said. "Not only are we providing better, more convenient service to our customers, we are profitably growing our service business. That's great news in today's market."
---
"Now we have a way to effectively track off-site inventory, which allows us to provide this unique consignment service to our customers." -Bruno Muzzi, Peterson Tractor Company
---
The convenience of the consignment service has increased customer satisfaction and set Peterson apart from its competitors.
Revenues will increase and costs will decrease
As a new company, you may have been able to use Excel without incident. Now that you are an established business, you might have noticed some of Excel's limitations, including data entry inaccuracy and forecasting inaccuracy.
Data entry inaccuracy
The aforementioned, can
add up to bigger issues in the long run.
Not only do keying errors cause problems, the use of spreadsheets is just inefficient.  For example, if your business is tracked on one Excel workbook, only one person can access information at a time. It's likely that more than one worker will have to access and update the spreadsheet over the course of time. This opens your operations up to even more human error.  If your inventory frequently moves from site to site, time is wasted when employees not only have to verify inventory workbook totals but also inventory details (item, location, etc.) in hopes that they truly reflect what's in your warehouse. With an inventory management system, multiple employees can work with inventory in real-time saving costly man-hours.
Inability to forecast
When your data is not accurate from the start, you simply don't know what items you have in your warehouse.  You could even end up with inventory overages, resulting in costly write-offs or write-downs. The real problems start from a general lack of knowledge, when you never know what you have in stock at any given time. This not only wastes your employees' time, but customers won't be happy if you are constantly out of high-demand items. The ease and accuracy of an inventory management system can provide you with the knowledge you need to make money, not lose it due to frustrated customers or inventory collecting dust on warehouse shelves. PCO utilized audit features on its inventory management system to verify the accuracy of its stock. A simple scan with a
barcode scanner
uploaded inventory information into the associated software, reconciling inventory counts for each item. The software's reporting features enabled the company to order new inventory and determine which items moved the fastest. Now PCO has improved its responsiveness to customers and increased sales because it no longer runs out of needed inventory. Take time to analyze how much money you've lost or are losing due to decreased sales or loss of actual inventory. Compare that loss to the cost of investing in an inventory management solution.  Those numbers are enough reason to make the switch away from Excel, and to an inventory management system, no matter how long you've been in business.
How has your business outgrown your current inventory management system?