Wasp Barcode Technologies: The Barcode Solution People
Barcode: The Ultimate Guide to Barcodes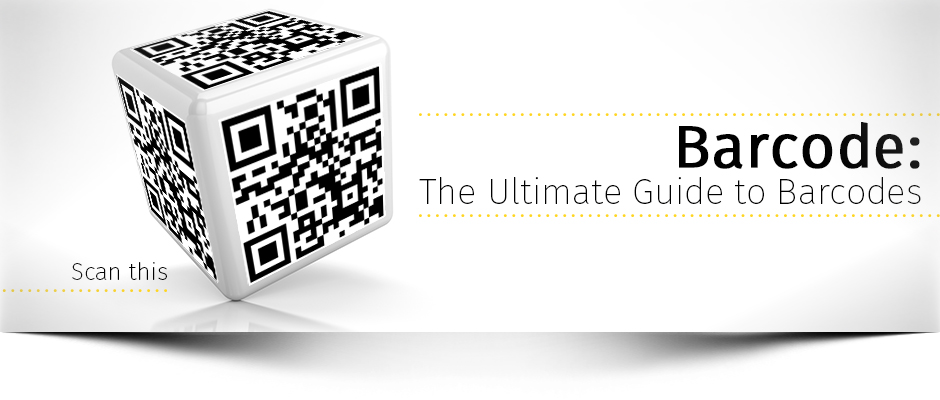 Every time we purchase something we interact with a
barcode
, but rarely do we give them much notice. Yet barcodes play a crucial role in the effective and efficient operation of our economy, from small businesses to large multinational conglomerates.
What is a barcode?
A barcode is "A machine-readable code in the form of numbers and a pattern of parallel lines of varying widths, printed on and identifying a product."
But in truth a barcode is so much more.
Barcode systems
help businesses and organizations track products, prices, and stock levels for centralized management in a computer software system allowing for incredible increases in productivity and efficiency. The lines and patterns on a barcode are actually representations of numbers and data and their development allowed basic information about a product to be easily read by an optical scanning device,
a barcode scanner
, and automatically entered into a computer system. This vastly reduced the time it took to record such information and eliminated the potential for human data entry error. Barcodes started out with simple 1-dimensional designs, consisting of basic black lines that could only be read by specially designed barcode scanners. However, today
barcodes
come in many shapes and sizes and a wide range of designs and many can even be read by mobile phones and other devices
.
Brief history of the barcode
The barcode has a long and interesting history from its initial development nearly 70 years ago through today. It is an ever changing story, as the technology behind the
barcode is constantly evolving
, and we discover ways to put more and more information into these "machine-readable" codes. It all started in 1949 on a beach when Joseph Woodland, a mechanical engineer at Drexel University, drew a set of parallel lines in the sand that
"represented a kind of 'long form' of dots and dashes"
or Morse code. Woodland had been thinking about the ways Morse code might be used to solve a problem his colleague Bernard Silver had presented to him. Months earlier, Silver had overheard the president of a grocery chain appeal to the dean of Drexel University to help him devise a system to automate the grocery checkout process. On October 20, 1949,
Woodland and Silver filed a patent application
for a "Classifying Apparatus and Method" -- the first barcode concept. They finally
received their patent in October 1952
, and while the idea was intriguing to a number of companies and industries, the scanning technology, which would eventually allow the barcode to become one of the most ubiquitous symbols in the world did not yet exist. [caption id="attachment_7506" align="alignleft" width="300"]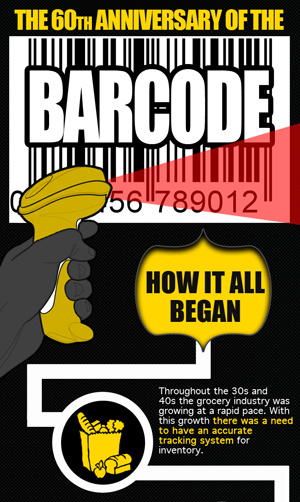 Click image for full infographic[/caption] In the 1950s and 1960s various companies and industries tried to develop the
barcode technology
. The first implementation was the KarTrak system developed by David Collins for the Boston and Maine Railroad company. It was subsequently selected as the standard by the Association of American Railroads (AAR) and by 1974, 95% of the AAR fleet was labeled with the KarTrak system. However, the system was never fully functional and its use was discontinued by the late 1970s. The breakthrough that would lead to the global spread of barcodes was the
development of the Universal Product Code (UPC)
. In 1966 the National Association of Food Chains (NAFC) began to discuss the idea of automated checkout systems. At the time, RCA owned the rights to Woodland and Silver's original patent and began an internal project to develop an effective system. Then, in the mid-1970s, the NAFC established the U.S. Supermarket Ad Hoc Committee on a Uniform Grocery Product Code, to create basic guidelines for barcode development and an effective coding system. This led to the creation of a standardized 11-digit code to identify any product. At the time, IBM employed George Lauer and had him begin work on what would
become the standard UPC linear 1D barcode
. The critical moment came in 1974 on June 26th when the
first barcode was scanned
in a supermarket in Troy, Ohio. It was a 10-pack of Wrigley's Juicy Fruit gum. Over time the barcode has expanded from simple lines to complicated designs and helps people track everything from a can of soda to top secret assets in the Department of Defense.
1D vs 2D Barcodes
There are two types of barcodes: linear - or 1D, and 2D. The most visually recognizable, the UPC (
Universal Product Code
) is a linear 1D barcode made up of two parts: the barcode and the 12-digit UPC number. The first six numbers of the barcode is the manufacturer's identification number. The next five digits represent the item's number. The last number is called a check digit which enables the scanner to determine if the barcode was scanned correctly.
| | | | | |
| --- | --- | --- | --- | --- |
| | | Uniform Product Code (UPC) | | Retail stores for sales checkout; inventory, etc. |
| | | | | |
| --- | --- | --- | --- | --- |
| | | Code 39 (Code 3 of 9) | | Identification, inventory, and tracking shipments |
| | | | | |
| --- | --- | --- | --- | --- |
| | | POSTNET | | Encoding zip codes on U.S. mail |
| | | | | |
| --- | --- | --- | --- | --- |
| | | Bookland | | Based on ISBN numbers and used on book covers |
| | | | | |
| --- | --- | --- | --- | --- |
| | | Code 128 | | Used in preference to Code 39 because it is more compact |
| | | | | |
| --- | --- | --- | --- | --- |
| | | Interleaved 2 of 5 | | Used in the shipping and warehouse industries |
| | | | | |
| --- | --- | --- | --- | --- |
| | | Codabar | | Used by Federal Express, in libraries, and blood banks |
| | | | | |
| --- | --- | --- | --- | --- |
| | | PDF417 | | Large amounts of text and data can be stored because it can be compressed. Used to print postage accepted by the UPSP. It is also used by airlines on boarding passes. |
| | | | | |
| --- | --- | --- | --- | --- |
| | | Maxicode | | MaxiCode symbols can encode two messages; a primary and a secondary message. Used by the United Parcel Service. |
| | | | | |
| --- | --- | --- | --- | --- |
| | | Data Matrix | | Ideal for marking small items due to it's ability to encode 50 characters in an extremely small size. Popular in healthcare and electronic components industry. |
| | | | | |
| --- | --- | --- | --- | --- |
| | | QR Code | | Common in advertising because it provides a way to access a brand's website quickly. Easily read by smartphones. |
A linear barcode typically holds any type of text information.  In contrast, a
2D barcode
is more complex and can include more information in the code: price, quantity, web address or image. A linear barcode scanner cannot read a 2D barcode, requiring the use of an image scanner for reading the information embedded in a 2D barcode. Mobile phones with cameras, like
iPhones and Android phones
, and many other devices can read 2D barcodes through their integrated cameras. The development of the 2D barcode greatly expanded the application of barcodes. Now that they could contain more information and are easily readable by consumers (via their mobile phones) the
2D barcode could do much more than just keep track of assets and inventory
. Today, 2D codes, especially QR codes,
which can hold as much as 7,000 digits or 4,000 characters of text
, are used by companies to share information or websites and videos with consumers, or by
healthcare facilities
to monitor medication, and even to integrate data with programs like MS Office, MS SQL Servers, and other databases and files.  Try this
free QR code generator
to create a QR code for your business.
[caption id="attachment_7507" align="alignleft" width="300"]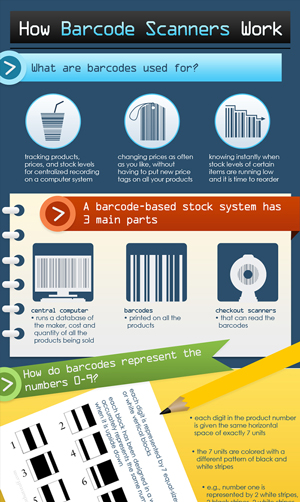 Click image for full infographic[/caption]
How do barcodes work?
Barcodes work through the combination of a symbology (the barcode) and a
scanner
that can read the symbols and convert them into useful information, often information about an item's origin, price, type, and location. The scanner reads the barcode and automatically enters the information stored in it into a system - often some type of database. This tool has provided many, many benefits for businesses. It paved the way for the globally connected distribution channels we now have and it is what allows big corporations like Walmart to ensure they have products properly stocked and priced around the world. It has also become a crucial tool to help small and medium businesses, as well as hospitals and government groups, keep track of assets and improve their efficiencies. Some of the ways businesses use barcodes include:
Keeping track of inventory. A basic inventory tracking system consists of software and a barcode scanner or mobile computer. Inventory items (like products you sell, supplies, or raw materials) will all have barcode labels, so when you remove an item from stock, you just scan the barcode to reduce the available count in your inventory tracking software, instead of having to type in a SKU.
Keeping track of assets. Any business, no matter how large or small, has IT assets and fixed assets. Barcoded asset tags are attached to each individual asset, and can be scanned to check items in or out in your asset tracking software. It's a great way to improve accountability and makes audits much easier.
Use barcodes in return mail. Add a barcode to the return-mail registration postcard that matches the product's serial number, and then you can instantly track which serial numbers are registered, and which aren't. Plus, your customers won't have to locate and transcribe a lengthy serial number.
Include barcodes in a mail merge. If your company is hosting an event, you can add barcodes to an RSVP card so you can track who has responded – without trying to translate anyone's handwriting.
Add barcodes to invoices. Add a barcode that represents the customer number or the individual invoice number so when it's returned with payment, you can easily locate the customer account or invoice number. This will prevent problems like applying payments to the incorrect customer account or invoice.
How you create a barcode
Barcode Software for Label Design – WaspLabeler +2D Tour
One easy way to incorporate barcodes into your business is to use a complete barcode system, like the
WaspNest Barcode System
. However, there are also many online tools that you can use to generate barcodes without any investment.  Try this
free barcode generator
to create a barcode for your business. Need a 1D Barcode or 2D QR Barcode?
How Do Barcodes Help Businesses?
How can barcodes help your business's bottom line? Strictly speaking it isn't the existence of barcodes themselves that help businesses save and make more money; it's the systems behind them.
Take the Arizona Cardinals scoreboard crew for example, they recently
implemented an asset tracking system
(leveraging barcode technology) in order to track all of the parts involved in a flawless game day experience. As a result, they were able to save over 500 hours per year. How's that for improving efficiency! Just because you're not an NFL team doesn't mean that barcodes can't help to improve how your small business works. In fact, whether you make and sell physical products or you just can never seem to figure out where your projector is when you need to give a presentation, labeling and tracking your assets with barcodes can save your business time and money. Have a question about barcodes or ready to optimize your inventory? Give us a call at 866.547.5005 option 1.
QR Code Generator: 5 Ways to Use QR Codes