Wasp Barcode Technologies: The Barcode Solution People
How Centralized PPE Management Protects Students and Faculty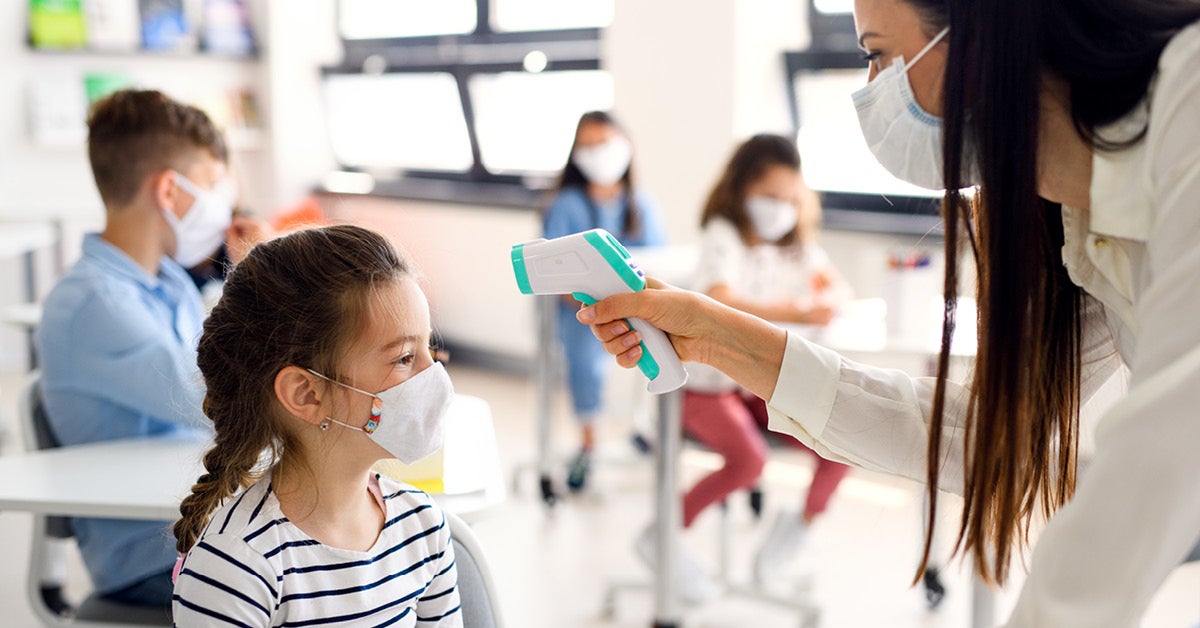 As schools across the country reopen for in-person classes, school administrators are facing new challenges as they work to keep students, teachers, and staff safe in the middle of a global pandemic.

One question on every school safety or compliance officer's mind is: How will we ensure every school, classroom, and staff member has adequate personal protective equipment (PPE) to keep themselves and students safe?

PPE on each school's must-have list includes masks, face shields, disinfectant wipes, hand sanitizer, and thermometers. And that's only the beginning. Schools are also stocking up on essentials such as soap, paper towels, tissue, no-touch/foot pedal trash cans, sneeze guards and partitions.

With so many items to source, purchase, allocate, distribute, track, and keep in stock, it's no wonder why so many school districts have delayed in-person re-openings. Schools are grappling with the need to ensure they are fully prepared to safely welcome teachers and students back into their classrooms, which is why an inventory management solution is vital to ensure the health and safety of students and faculty.

When faced with the challenges that schools are working through, the most valuable resource is information. A solution such as InventoryCloud by Wasp gives schools exactly that.

Centralized, real-time inventory ensures administrators know exactly what they have, where it is located, and how much more they have left before need to reorder. With real-time information, administrators can easily identify locations of need and move supplies from one area to another.

Not only can administrators guarantee proper stock and distribution of PPE for a single school, but also manage PPE stocks districtwide, or statewide, for government agencies that want to take an active approach to this challenge. From a single web-based application, administrators can view and control distribution of critical PPE across unlimited sites and locations.

One of the keys to ensuring the health and safety of students and staff at each school is understanding each school's PPE usage history. InventoryCloud provides usage history and reporting to keep you well-informed of how much of each item your school used during a specific time period. This information can help your school more accurately plan for future orders. Items can also be tracked by school or department for additional insights into distribution.

InventoryCloud's minimum stock levels feature helps schools avoid running out of a critical item by sending immediate email notifications when a critical item becomes low and it is time to reorder more before running out. Those responsible for management and distribution of supplies can also use mobile computers, Smartphones and tablets in combination with barcodes to audit inventories and practice contactless dispersal.

Unfortunately, there are thousands of districts that have no good inventory solution in place. Most are left to their own devices to handle the problem. Many schools have traditionally tracked these items via pen and paper, spreadsheets, or not at all. That not only makes it extremely difficult to have accurate and up-to-date information, but in these times, it makes for a potential health disaster. Without an effective, centralized inventory tracking solution in place, schools risk the possibility of running low on or running out of critical PPE or supplies when faculty and students need them the most.

There's a lot to worry about this school year. Effective inventory management of PPE shouldn't be one of them. For more information, call us at 866-547-9277 or request a free, no obligation demo.