Wasp Barcode Technologies: The Barcode Solution People
Infographic Production & Promotion: What Small Businesses Need to Know

In the age of digital media and online marketing, it is tough for small businesses to compete with limited resources and budgets. While all aspects of inbound marketing are important, I've heard specific complaints in regard to the tumultuous task infographic production. After all, infographics take a lot of time to create (content and design); they're sometimes costly, and the results are not always clear. However, there are a number of reasons why you should be creating infographics. Here are the three reasons I like to focus on:
1. Infographics provide value to your clients.
If you can create an infographic that is relevant and interesting, your business can become a resource for current consumers and potential leads. For example, I worked with
Delivra
, a popular marketing-email provider, on an infographic aimed to "spice up" the current state of the email marketing. Working hand-in-hand, we created a compelling infographic about planning email marketing around the
holiday season
. It was timely, informative, and in the client's niche. Their users loved it and it appealed to the industry as a whole, positioning them as an expert in this area.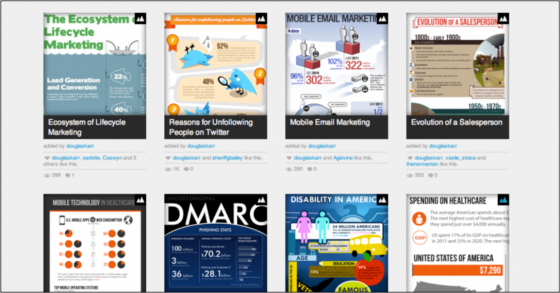 2. Infographics build brand awareness and site traffic.
If you can create an infographic that your clients find valuable, then more than likely, other people will find it valuable as well. As a direct result, it will be shared on social networks and blogs, and more people will be landing directly on your site. If it truly provides value, then visitors to your site will likely poke around the site to inquire about additional information, leading to more site conversions. Just make sure that your call-to-actions are strong!
3. Infographics create an opportunity for SEO benefits.
At the end of the day, we all want to be found through search engines to help the bottom line. If you can target
specific keywords and keywords phrases
for your brand by using tools like SEMRush, then you can also create an opportunity to benefit from an SEO perspective. As an example, client
Right On Interactive
recently created an infographic on the
ecosystem of lifecycle
marketing, their target-niche. The keywords for this specific infographic included "lifecycle marketing" in the title and the file image was named and saved as "Lifecycle Marketing Infographic" so that both would be properly indexed by search engines when published online. Be sure to include the keyword phrase in the permalink, as well.
Getting Started with Infographics
Now, that we've talked about why you should create an infographic, let's talk about how you should move forward with the creation process. One of the most prohibitive aspects of creating an infographic for a small business is the cost. Infographics can cost up to $10,000 depending on the account management, design, and turnaround. But there is a great option for small businesses to produce an infographic inexpensively:
Elance
In the past, we've used
Elance
to find designers since we didn't have an in-house designer of our own at the time. It's free to sign up, and you can post your jobs free of charge. After you've filled out the infographic title, description, and attached the necessary files, make sure that you select the options shown in the screen shot below.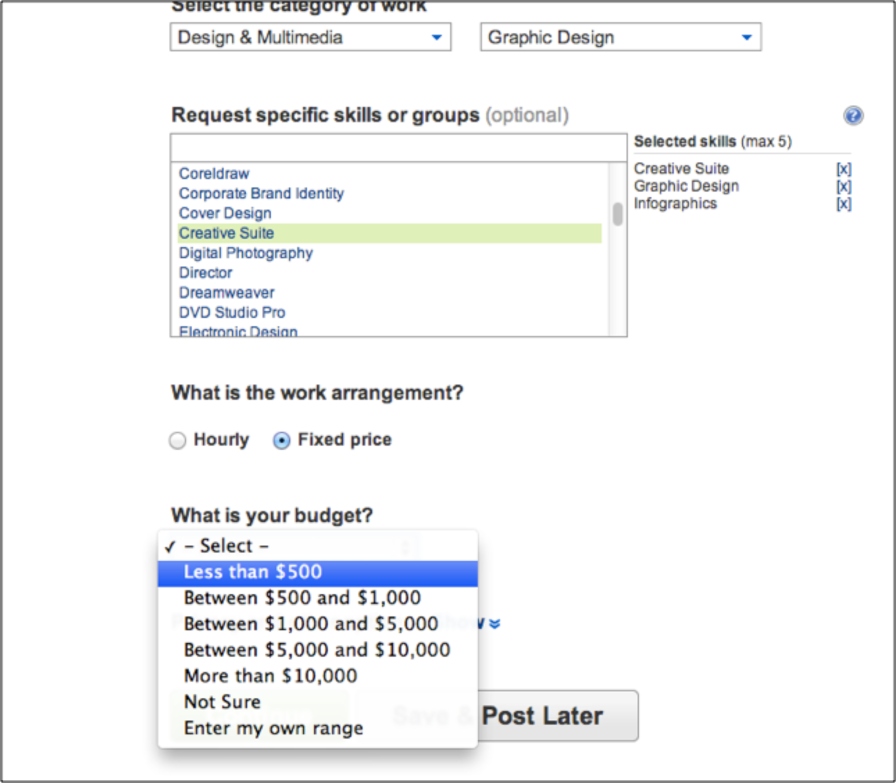 The most important part is that you make sure you select Fixed Price, and then click on the appropriate budget. Once the job is posted, designers will reach out to you from Elance with proposals, and you can pick accordingly.
Note: While you may have an internal designer, we have found that it is more cost effective from a time and money standpoint to outsource infographic production.
Tips for Infographic Production & Promotion
1. Keep the topic relevant and compelling.
An infographic isn't going to perform well if you don't have a clear value proposition for the reader. When creating an infographic, you should have a broad topic in mind that relates to your service or product that provides value for readers. If you're in event planning business, then create an infographic on how event planning can save you time and money, not on how your services are better than everyone else's. As a general rule of thumb, I suggest staying away from branded infographics (ones that focus on your product or service).
2. Have a call to action.
What do you want people to do after they've viewed your infographic? If it's to contact you, then have a CTA button that links to your landing page directly underneath the infographic. However, I'd recommend having a link to a landing page or page that gives more information about the topic in relation to what you do for clients. Sticking with the event planning business example, I suggest having a link that points to a page that describes what event planning entails on your website. That way, it tells the readers exactly what you do, while keeping them engaged on your site.
3. Don't be afraid to outsource content.
Just like design, content takes time and money. Don't be afraid to find a copywriter who can do research and write content for your infographic. As a copywriter, they should be able to hand you something to review within a week. Just give them a topic with a couple of bullet points so that they have a direction in which to go.
4. Share, share, share.
Once your infographic is complete, have a field day sharing it! There are a number of places that you can share your infographic:
Social networking sites
Company blog
Social bookmarking sites
Email campaigns
Infographic sites: Visual.ly, Cool Infographics, Visualizing.org
Pitch to influencers in your industry
Press release on infographic
5. Measure and track.
What's the point of creating a compelling infographic if you don't track your success? Make sure that you are paying attention to visits to the infographic link by
applying campaign codes
when appropriate as well as tracking how many people are clicking on your CTA link. See where the referral traffic is coming from and focus on promoting more through those mediums.
Are you ready to create your infographic?